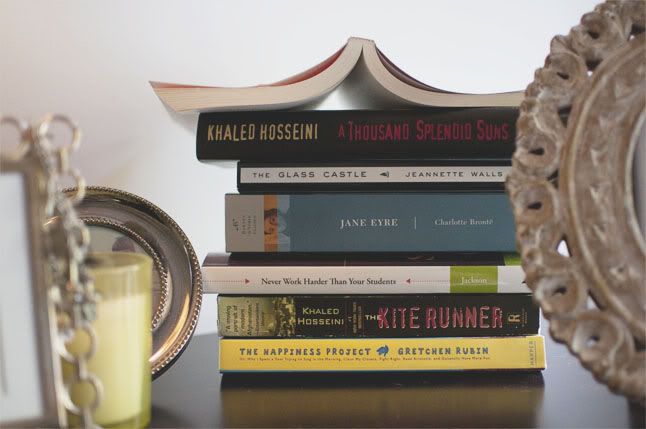 These are the books I have read so far this summer. I've been reading a lot. I started with
The Happiness Project
, which was pretty good. I think some of the things she did to be happier, I do already, or seem second nature to me. I couldn't relate to her parenting chapter, but could see how some of my friends who have children might. The biggest takeaway from Rubin's book for me was the quote, "The days are long, but the years are short." It's so true!
After a happy book, I read
The Kite Runner
and followed it up with
A Thousand Splendid Suns
. Both take place in Afghanistan and made me think I should have read the happiness book after. These were amazing books that I won't forget, and I had a hard time putting them down.
Then, I read
The Glass Castle
, which is my college's summer book selection. It was wonderful, and made me shake my head at some of her stories and laugh at others. I enjoyed that book so much, I'm currently reading her second novel,
Half Broke Horses
, which I'm loving so far.
I'm also reading
Never Work Harder Than Your Students
, which is pretty good so far. I confess that I'm only a chapter in, but I'll get into it more.
I have another confession. I cannot get into
Jane Eyre
. Am I the only one who doesn't like it? I feel like less of a girl because most of my friends have just loved it. I have tried more than once to get in to it. I even lit some candles and pumped myself up for some Bronte. Just.couldn't.do.it. So, I'm not. I always tell my students to not keep reading books they don't like, so I'm giving up.
What are you reading this summer? I still want to read
Bossypants
,
An American Heiress
, and I want to reread
The Great Gatsby
before the movie comes out later this year.